Started by metmike - July 2, 2022, 1:06 a.m.
UAH Global Temperature Update for June 2022: +0.06 deg. C
https://www.drroyspencer.com/2022/07/uah-global-temperature-update-for-june-2022-0-06-deg-c/
More comments below:
https://wattsupwiththat.com/2022/07/01/satellite-data-coolest-monthly-global-temperature-in-over-10-years/
July 1st, 2022 by Roy W. Spencer, Ph. D.
The Version 6.0 global average lower tropospheric temperature (LT) anomaly for June, 2022 was +0.06 deg. C, down (again) from the May, 2022 value of +0.17 deg. C.
Tropical Coolness
The tropical (20N-20S) anomaly for June was -0.36 deg. C, which is the coolest monthly anomaly in over 10 years, the coolest June in 22 years, and the 9th coolest June in the 44 year satellite record.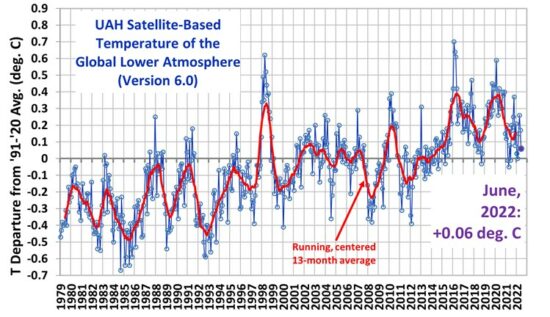 The linear warming trend since January, 1979 still stands at +0.13 C/decade (+0.11 C/decade over the global-averaged oceans, and +0.18 C/decade over global-averaged land).