One of the many things that Biden and the Greens are not telling you is about what will happen when we go to electric vehicles/batteries and Green energy and we are reliant/dependent on China for the supply of rare earth metals.
This is the recipe for a potential cataclysmic economic disaster for the US............being brought on by our actions over a fake climate crisis.
Wow, the ignorance of our political leaders in taking us down this path is stunning. How can they not see it with crystal clarity?
Are they this ignorant or are they intentionally trying to ruin our country?
I predict that China's economy will easily surpass ours in the next few years and by the year 2030, they may have double the GDP and productivity of the US,. maybe more.
Keep in mind that China, has made it clear that they will not be making CO2 cuts and in fact, in the agreement they made with Obama to be part of the climate accord, they will only consider stopping their increase in CO2 emissions in the year 2030 and they weill be getting money from the rich countries, like the US until then.
You heard that right. China gets money for being in the Climate Accord, because the UN categorized them as a developing country. The US, as a developed country gives them money. China does not have to cut emissions until 2030.
Still think the Climate Accord is about the climate?
China Dominates the Rare Earths Supply Chain
https://www.instituteforenergyresearch.org/international-issues/china-dominates-the-rare-earths-supply-chain/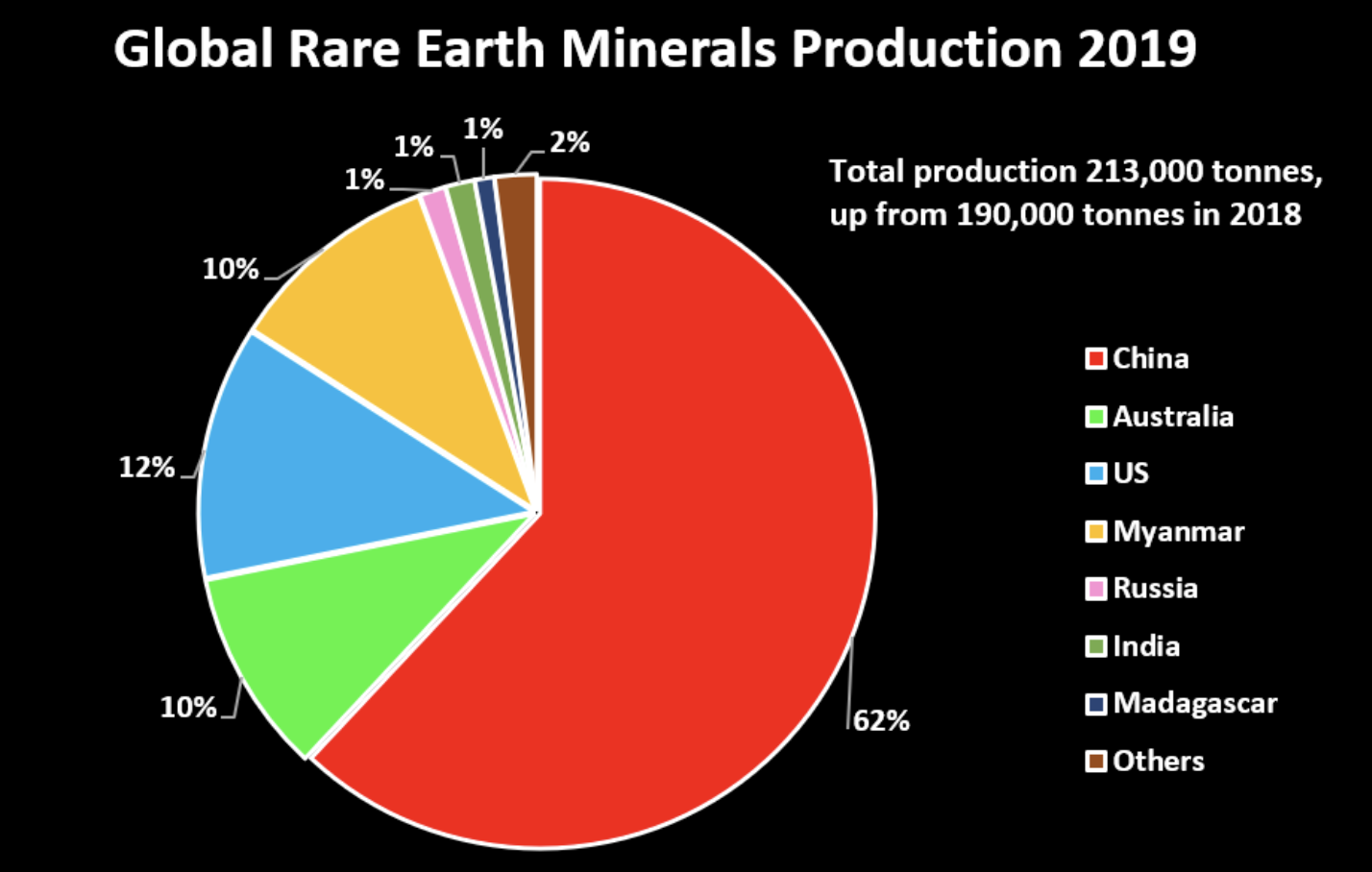 China already has 80 to 90percent of the global rare earth market. Further, over 70 percent of all mined cobalt needed in the electric vehicle industry comes from the Democratic Republic of the Congo, and most of that cobalt is controlled by China. That means massive U.S. policies to "go green" with renewable energy sources and electric vehicles are in fact, "going red," as in handing over power to the Chinese Communist Party. An energy policy based upon principles of the Green New Deal is a policy of guaranteeing overwhelming dependence for our energy on China. China's control over these energy sources is much greater than the control OPEC ever exercised over world oil production.
The gradual closure of Western factories and en masse job transfer from West to East has been occurring for decades. The recent U.S.-China trade war and the coronavirus pandemic have made the Western world realize that it has a heavy reliance on China's supply chain. The U.S. Senate has discussed restoring the U.S. supply chain of critical materials and rare earths, but it is moving very slowly. Senator Ted Cruz has proposed a bill to provide funding to both rare earth production projects and massive tax breaks for companies using U.S.-made magnets. Recently, Senate Republicans have issued proposed legislation to provide COVID-19 relief, the Health, Economic Assistance, Liability Protection, and Schools (HEALS) Act, which includes provisions to fund research and development for rare earth element extraction. The Trump Administration's Department of Defense has recently committed the funding for two rare earth separation plants in the United States.
However, by 2029, it is expected that the United States will have only 3 lithium-ion battery mega-factories compared to China's 88—of a total of 115 lithium-ion battery mega-factories planned. Europe is making a more concerted effort to build up their battery supply chain and by 2029, will have 17 percent compared to China's 69 percent and North America's 8 percent.
Conclusion
Put simply—"Control the supply chain, control the world"—is what China's 2025 strategy is all about. China is way ahead of the game and only with governmental commitment and alliances with friendly nations can the United States come out of the hole past policies created. The West needs to move rapidly to regain control of its industrial future; green energy policies that foster an overwhelming dependence on China threaten it.