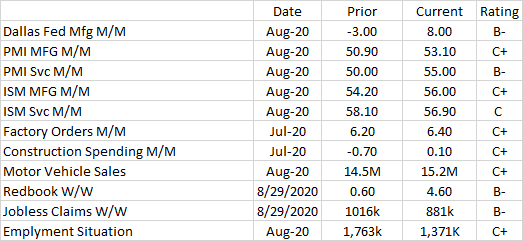 No bad news this week. Pretty solid overall.
Construction came in barely positive, but a win, just the same.
Jobless Claims came in far lower at 881K but there's a caveat. BLS has modified the way they seasonally adjust the numbers and that accounts for a large portion of the reduction. As I read the writeup, my head actually started hurting. I prefer raw numbers...Needless to say, there is some improvement.
Motor Vehicle sales showed some solid growth. That will be reflected in Consumer Credit.
RedBook finally came in strongly positive for the 1st time since the early hoarding of the Pandemic.
Dallas Fed came in very strong. As we know, there is a strong correlation with energy prices.
Factory Orders remain strongly positive for the 3rd consecutive month while PMI and ISM MFG and SVC metrics show very solid numbers.
Employment Situation was bullish in every category with drops in U3, increases in Participation, Hours, Earnings not to mention an increase of nearly 1.4 million jobs.
It's difficult to grade these days as we are breaking new ground in the severity of the decline and the trajectory of the recovery. ISM numbers north of 55 are extremely strong but earn C+ at best. Employment Situation with 1.4 million jobs gets a C+. But the weekly grades are relative to the last few week/months and these high readings have become the norm. As we approach "normal", these readings will stabilize.
Overall a very solid C+ for the week and I am downgrading the suck factor to 7 based on an improving Employment Picture and the GDP forecasts for Q3, currently at 29,6
https://www.frbatlanta.org/-/media/Documents/cqer/researchcq/gdpnow/RealGDPTrackingSlides.pdf