After a few weeks hiatus, I am back with the Week in Review. Hope you haven't missed me too much :-)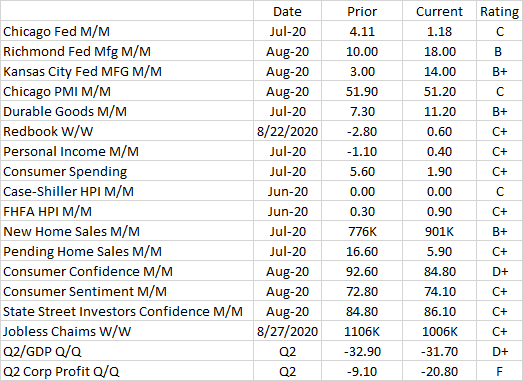 Somwhat mixed week, but overall, pretty positive.
Q2 is pretty much in the review mirror but Corp Profits were revised way down. I expect a significant rebound for Q3. GDP was revised up a tic or two but still remains the worst on record by a wide margin.
Consumer Confidence took a real hit, oddly opposed to Sentiment which rose a little. State Street Investors are stable in a good range. Not high, but well above the lows.
Jobless Claims had dropped below a million, then climbed back over and last week just slightly above. Well below the peak, but almost three times what I consider acceptable, between 3-400K/wk. For the last few years, pre-pandemic, we were generally well below 300k.
RedBook finally crept into positive territory, tho barely.
Chicago, Richmond and Kansas City Fed show positive from modest to extrordinary.
Durable Goods remain impressive with a double digit gain in July.
Personal Income showed modest gain while Spending seems to contradict Confidence.
Housing is on Fire. Not reported but last week existing homes showed a multi-decade high. I don't think the pandemic hit housing very hard which is very telling as far as which income groups were hit hardest.
I'll go with a C+ on the week. Suck Factor remains 7.5 with Jobless Claims remaining above 1 million/Wk. I expect that metric to improve significantly in the coming month or two.