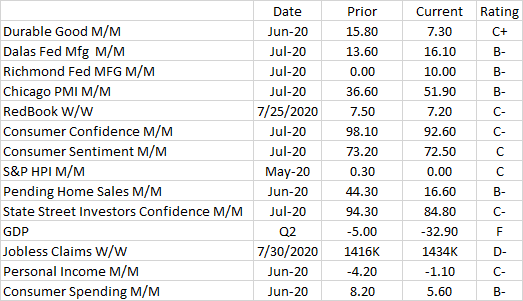 Somewhat mixed week.
The obvious headline is the GDP. I doubt many were surprised that it was strongly negative given the ecodevastation of Q2:20. The good news is the upward revisions starting in June.
Jobless Claims remain at about 4 times the maximum acceptable. This is the biggest concern I have in the overall.
Consumer Confidence had a slight slip as did State Street Investors. Could be ominous, certainly a "watch and wait".
Personal Income continued to shrink but at a much slower rate while Consumer Spending continues to climb.
Pending Homes Sales remains strong as Housing in general remains a bright spot in this economy.
MFG also remains pretty strong. Will be interesting to watch Dallas Fed as their reading is strongly tied to Energies. Durable Goods remains strongly positive.
I have mixed feelings based on this weeks readings. Sentiment is important and is understandably taking a hit in view of the media beating we get daily. Personal Income will likely show growth in the near term and I expect another outsized positive Employment report next week. Underlying Funnies remain good to strong. I'll go with a cautious C this week. Suck factor remains at 8.
*Note: Taking a much needed 2 week vacation starting next week. Won't make any promises other than I'll see what I can do with the Weekly Review