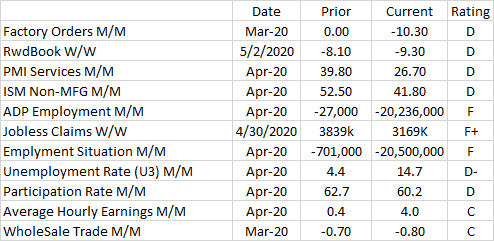 No real surprises this week.
Jobless Claims added another 3.1 million. Better than last weeks 3.8.
Service Sector had the worst showing I've ever seen with both the ISM and PMI showing double digit drops.
Factory Orders dropped by 10.3%
The big news, or course, is the employment situation. 20.5 million jobs lost. I have nothing to compare this to in history. U3 spiked to 14.7. Expect that to grow.
An interesting note. Average Hourly earnings often do not support the arguments people make re: wages and this is the best example I've seen in a while. During times of growth, you'll hear people complain that there is little to no wage growth to which they equate.. "The little guy is still getting screwed". What's really happening is that during times of growth, a lot of low wage earners are entering/reentering the job market, deflating the actual growth. Using their flawed logic, the impressive 4% wage growth for this period means things must be great, right? But what's actually happening is that the low wage earners are dropping like flies while the higher earning individuals are not being impacted as badly, essentially artificially inflating wages.
Anyway... The week gets a D-. No light at the end of the tunnel yet, and if ya think ya see one, it's probably an oncomming frieght train.