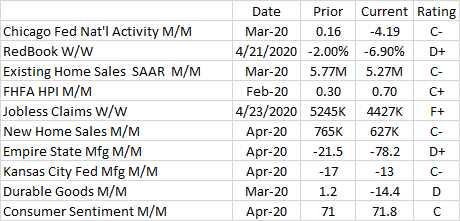 Not much resembling good news this week...
Retail Sales took it on the chin with the lowest Redbook reading I've seen at -6.9%
The assorted Fed reports are bad to dismal. Empire State Mfg, from the arguable epicenter of US Covid at -78.2.
Durable goods at -14.4.
Hard to call Jobless Claims of 4.4+ million good news, but it certainly is an improvement.
Consumer Sentiment seems to have leveled at a low point.
Home Prices actually showed some strength, but that was in Feb. Existing home sales showed a minor drop.
With some states beginning opening up for business, we may start seeing some improvement in the near term, but can't go better than an overall D for the current numbers.