Tomorrow, what boundaries are left from tonights storms will ignite new storms downstream, with a brand new perturbation upstream in the Northern Plains(ridge rider along the periphery of the heat ridge) emerging.
Day 2 and Day 3 Forecasts
Current Day 2 Forecast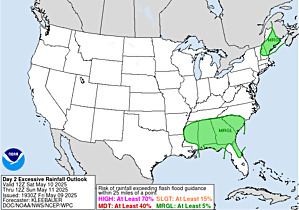 Valid 12Z 06/10/18 - 12Z 06/11/18

Day 2 Threat Area in Text Format
On Monday, the pattern continues as storms start in the N.Plains vicinity, move southeast around the dome(ring of fire patterrn).
New waves start out in the N.Plains/Upper Midwest and move southeastward. The timing is impossible but locations most likely are shaded in greens and especially yellows but could be just outside those colors.
mcfarm, cutworm and PLL are all in the a zone that could see one of those big mcc(mesoscale convective clusters) come rolling thru with hefty rains.
Current Day 3 Forecast