Previous NTR posts from the trading forum on this topic:
https://www.marketforum.com/forum/topic/45190/
Australia drought
10 responses |
Started by cliff-e - Jan. 2, 2020, 8:40 a.m.
Possibly a NTR subject but we can't ignore what it's done to wheat and feedgrain production in Austrailia. Also picking up news of greatly reduced Russian grain production.
https://www.vox.com/2019/12/30/21039298/40-celsius-australia-fires-2019-heatwave-climate-change
++++++++++++++++++++++++++++++++++++++++++++
By patrick - Jan. 2, 2020, 10:46 a.m.
Can't really tell from that how the crop will be affected, since it's winter wheat & the last crop is in and the next one not planted, but Australia is #6 in wheat


Top WheatProducingCountries
China (134,340,630 tonnes)
India (98,510,000 Tonnes) ...
Russia (85,863,132 Tonnes) ...
United States (47,370,880 Tonnes) ...
France (36,924,938 Tonnes) ...
Australia (31,818,744 Tonnes) ...
Canada (29,984,200 Tonnes) ...
Pakistan (26,674,000 Tonnes) ..

Between this, and all the coral/kelp/fish issues off the east coast, Australia is liable to be going very green. They still get most of their electricity from coal, which will be changing, but everyone is getting off coal so that shouldn't be a huge factor either.
++++++++++++++++++++++++++++++++++++++++++++++
metmike:
Happy New Decade to you Patrick! Great to read you!
Let's put it into proper, scientific perspective.


NASA Detects Drop in Global Fires
Note Australia in the bottom right. Blue is less burned area.
"Globally, the total acreage burned by fires each year declined by 24 percent between 1998 and 2015, according to a new paper in Science that analyzes NASA's satellite data, as well as population and socioeconomic information."
metmike: The current fire season is possibly going to be the worst ever for Australia. This is a very bad thing. How do we explain that? Thankfully, we have data to offset scary words about how this is unprecented from the climate emergency and will keep getting worse and worse.
First of all, if you look at the graph of fires in Australia the past 50 year from this link (can't be copied here) https://www.theguardian.com/australia-news/2019/dec/25/factcheck-why-australias-monster-2019-bushfires-are-unprecedented
, you will NOT see a trend higher. In fact, before this year, the past 2 decades featured a LOWER trend. What we do see is isolated, really bad years.........like 1984 and even worse, 1974. This is called random variation which has been happening since long before humans could measure it. With extreme weather. With wildfires. With volcanoes. With all natural disasters and many other events.
Every single year on this planet there are numerous places setting all time records for something. It's always been that way and always will be that way but extreme weather is not getting worse overall. Sure, the heat waves are a tiny bit hotter in some places in the Summer because of the global increase in temp of 1 deg C(and we hear all about every record heat wave) and cold waves not as cold but we are experiencing the best weather/climate in the last 1,000 years.
Most life on this greening planet would prefer a global temperature up to 4 deg. C warmer than this. Only at that point would negatives outweigh the many positives.
Every year, widespread droughts develop somewhere and go away somewhere else. It's always been that way and is called weather. Today, we only hear about the drought prone locations when the inevitable droughts hit.........Australia and California for instance.
We hear they are caused by the climate crisis and will get worse and worse but then, when they go away it's not news any more and we are never told about the past extreme weather/droughts because that would not make today's weather unprecedented anymore.
"Here's how much recent rains have washed away California's drought"
"Less than 1 percent of the state is in any kind of drought status, down from 48 percent a year ago"
PUBLISHED: | UPDATED:
https://www.mercurynews.com/2019/03/07/heres-how-much-recent-rains-have-washed-away-californias-drought/
"California drought: Past dry periods have lasted more than 200 years, scientists say"
https://www.mercurynews.com/2014/01/25/california-drought-past-dry-periods-have-lasted-more-than-200-years-scientists-say/
But the data here shows it..........the authentic facts vs scary words to convince people of the fake climate emergency to use as ammo for imposing the political, anti science agenda(pretending to be science).
++++++++++++++++++++++++++++++++++++++++++++
Re: Re: Re: Austrailia drought
By metmike - Jan. 2, 2020, 4:51 p.m.
Temperatures have warmed around 1 deg. C in Australia over the last 100 years, especially because the surrounding ocean temperatures have warmed that much:
https://jennifermarohasy.com/2014/01/bureau-confirms-calculating-australias-average-temperature-involves-some-hocus-pocus/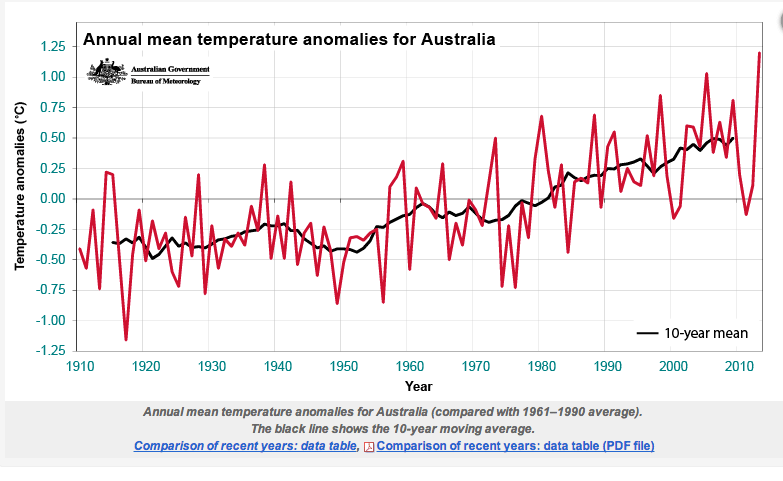 Is this current record heat unprecedented?
Looky here from 1896.
http://joannenova.com.au/2019/12/hottest-ever-day-in-australia-especially-if-you-ignore-history/
Extreme heat in 1896: Panic stricken people fled the outback on special trains as hundreds die.
http://joannenova.com.au/2012/11/extreme-heat-in-1896-panic-stricken-people-fled-the-outback-on-special-trains-as-hundreds-die/
Photo: Jo Nova
Post by: Lance Pidgeon with assistance from Chris Gillham and others.
It is as if history is being erased. For all that we hear about recent record-breaking climate extremes, records that are equally extreme, and sometimes even more so, are ignored.
++++++++++++++++++++++++++++++++++++++++++++++
---
Re: Re: Re: Re: Austrailia drought
By patrick - Jan. 2, 2020, 8:41 p.m.
Yes, this horrible fire season in Australia is not entirely unprecedented. It's more likely under modern conditions, but there's no particular reason to think it will be a regular event. The 2C warming of the sea off the southeast - and its effects on the traditional sea life, 95% kelp die off, southward fish migration, and coral bleaching, is clearly more long term and harder to reverse.

In trading terms, we're talking about how Australia will react. Fire, particularly blasting through the most populated part of the country, gets people's attention.
+++++++++++++++++++++++++++++++++++++++++++++++++++
See the new posts here: