By WxFollower - Nov. 24, 2018, 10:59 p.m.
Mike,
Per history, with El Niño likely not getting any stronger than low end moderate, that is actually often a cold rather than warm signal for at least much of the eastern half of the US. I wasn't sure if you realized this. Many of the coldest winters in the E US were actually weak to low end moderate El Niño's: 1884-5, 1885-6, 1904-5. 1911-12, 1939-40, 1963-4. 1968-9, 1969-70, 1976-7, and 1977-8.
Then again, we still have -AAM, which is most often associated with La Nina and usually not as cold for much of the E US. Having the -AAM in combo with El Nino is quite unusual from what I learned from Radiant though I wonder if it will hang on through winter.
Does anyone have a link to an historical monthly AAM table?
++++++++++++++++++++++++++++++++++++++++++++
---
By metmike - Nov. 25, 2018, 2:10 p.m.
Good points on the weak El Nino correlating with more colder than average Winters in the East.
Maybe it's because the southern stream generated from El Nino was not strong enough to have an impact far enough downstream to deflect the northern stream, so the northern stream dominated:
https://www.climate.gov/news-features/featured-images/us-winter-temperatures-every-el-ni%C3%B1o-1950
---
+++++++++++++++++++++++++++++++++++++++
years ago, I don't put alot of stock in the accuracy of the magnitude since there were no widespread accurate measurements from that time frame.
No doubt they had trade winds recorded and barometric pressures (and differences) at some locations that would be useful in getting a ball park type figure, maybe even a guess but the actual sea surface temp data needed to assess this metric was not there.
+++++++++++++++++++++++++++++++++++
By metmike - Nov. 25, 2018, 2:43 p.m.
"Then again, we still have -AAM, which is most often associated with La Nina and usually not as cold for much of the E US."
My first thought was that La Nina's are cold in the East and memory tells me that some very strong La Nina's have featured extreme cold in the Midwest and East, however I checked and what you stated, not as cold in the East seems to be what's out there on the internet. I am skeptical.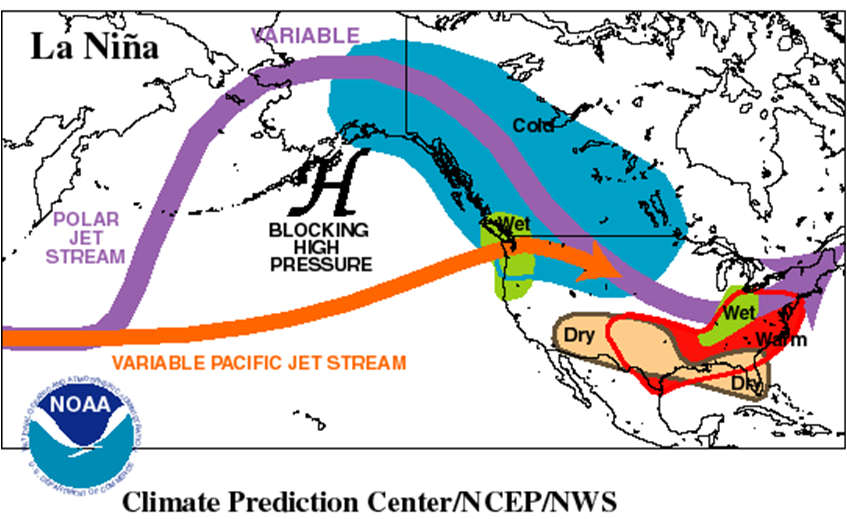 To me, this flow diagram does not make sense meteorologically..........unless you shifted the weather to the east/right several hundred miles.
A high pressure ridge to Alaska and Western Canada will feature mild Winter conditions there, not cold.
The blue cold, would be escorted south, much farther east INTO the deep trough from the Midwest to the East Coast.
+++++++++++++++++++++++++++++++++++++++++++
By metmike - Nov. 25, 2018, 2:46 p.m.
I don't have any AAM historical data and have not studied this a great deal.
Thanks for bringing this up though Larry so that I can learn more about it.
++++++++++++++++++++++++++++++++
---
By WxFollower - Nov. 25, 2018, 4:30 p.m.
1. I just found out I was wrong about there still being -AAM. It was that way in Sep. but it turned to +AAM in Oct and has become strongly +AAM this month. So, disregard my concern about how El Nino tends to be with -AAM.
2. Looking at records, the SE US and Mid Atlantic (I think to at least NYC) has averaged colder during weak to moderate El Nino than all La Nina's averaged out. I think the upper Midwest and most of the plains has averaged colder in La Nina. I'm not sure about the lower Midwest though I lean toward warmer in La Nina for Cincinatti.
3. IMO, there is plenty of data to suggest what years were El Nino and what were La Nina including SOI and various SST data. I've been using this for ~15 years.
+++++++++++++++++++++++++++++++++++++++
---
By Jim_M - Nov. 26, 2018, 10:22 a.m.
Back in October, the NWS 3-4 week experimental forecast was predicting a warmer second half of November. Obviously that didn't happen. The cold keeps rolling, and it looks like we will have 2 more withdrawals now. This week and next.
NG has been dropping the last week or 2, but the potential for those spikes is very intimidating, no matter what direction you are trading. And with the chilly weather, those spikes are a very real possibility. I read that some trading firms went belly up with that last spike.
---
+++++++++++++++++++++++++++++++++++
By Jim_M - Nov. 29, 2018, 10:43 a.m.
24 degrees when I got in my car this morning...in November. It's like January here in NE Ohio. In fact it's colder than some of the January's we have had in the last couple years.
---
+++++++++++++++++++++++++++++++++++++++
By WxFollower - Nov. 29, 2018, 1:17 p.m.
Mike,
Despite the mild/pretty zonal maps that remain for the end of week 2 on the various ensemble means, there continue to be colder changes before, which is what is controlling most of the movements of NG imo. Jan NG is currently still over 4.600 even after a very bearish EIA. If the mild late week 2 maps were the primary mover, NG would be at least down into the low 4's imo especially after this very bearish EIA. But if the maps keep getting colder for weeks 1 and 2, overall, NG is not going to go down easily, if at all.
++++++++++++++++++++++++++++
By metmike - Nov. 29, 2018, 3:33 p.m.
NG was on the way down.........until the MUCH colder 12z GFS operational model, followed by the MUCH colder GFS ensembles came out.
The cold changes were entirely from the week 2 period.
Don't you agree Larry.
Also, the weakness overnight and early this morning, well before the EIA report, when we were already down 1,500/contract was from those products showing especially mild conditions vs the previous model runs for the same period.
The European ensemble was colder overnight but no matter and this afternoon, its a bit milder and putting some pressure on NG.
++++++++++++++++++++++++++++
By WxFollower - Nov. 29, 2018, 4:23 p.m.
Mike,
Radiant had slight cooler changes about equal in both weeks 1 and 2. The 12Z GFS suite changes were mostly in week 2. My point is that the end of week 2 snapshots showing mild day after day don't mean that much when many of the days before are revised colder. We could have day 15 mild maps for the rest of winter, but if maps are going to stay cold for much of the period before, NG is going to have a hard time dropping. I know you used to also show the snapshots of the GEFS at various periods before but you stopped. Also, you regularly only show the end of each CDN ens run. But what about day 6, day 10, etc.? Those for each ensemble have been having more impact overall imo as they seem to keep delaying the change to warmer.
+++++++++++++++++++++++++++++++++++
---
By metmike - Nov. 29, 2018, 7:48 p.m.
Thanks Larry,
The product that you mentioned, GFS ensemble mean going out 360 hours for each 24 hour period that I used to show a snap shot of is awesome.
I'll try to get back to doing that.
I'm not locked in on using the individual ensembles at 360 hours and mainly use that product to show the huge possibilities for the pattern at the end of week 2.
This is the most uncertain part of the forecast of course and the one most likely to change which is part of why I use it. It's the most challenging of all and the most intriguing of all.
When we have a powerful weather pattern change evolving, it's most likely to start showing up during the week 2 period.
Evaluating this is the most fun for me. Seeing a stronger cold front in days 5-7, within the same pattern(which just brings 3 colder days) then back to the pattern is important of course and you can see that on our high temps maps.
I am not into breaking down each day to state whether its colder or not. Since I've not received a penny for doing this, its not like its a paying job either. Howe er, I take suggestions like yours very seriously because I want people to enjoy and use this stuff.
I do it because I love weather and markets, it provides value to others and there are some great people here, like you that share that interest and are my friends.
I appreciate that very much.
+++++++++++++++++++++++++++++++++++++++++
By Jim_M - Nov. 29, 2018, 8:17 p.m.
Mike, what little I know of the weather I have learned from reading your posts. The weather banter that goes on here is always fascinating. Its no little thing that you take the time to update your posts everyday and it's appreciated. That Wx chimes in to bounce thoughts off of you is interesting too.
Switching to NG and looking at 30000 ft view, I think injections are done.
++++++++++++++++++++++++++++++++++++++++++
---
By metmike - Nov. 29, 2018, 10:34 p.m.
Thanks jim,
You are probably right, although with the supply situation as potentially bearish as it is(not storage but supplies) a week of extremely mild temps at some point could cause a small injection........not predicting that though.
You were the guy, that all Summer told us that prices were too low because storage was too low.
The market did not listen for months. Then we had some late season record heat, then we had some early season cold.
Then, we had the record cold and the huge gap higher on Sunday Night, November 5th.
So you were really proven correct!
Storage is now 644 bcf below last year as we end November.
NG did an incredible spike higher at 9:13.......... it spiked almost 1,500/contract. Looks like it took a couple of seconds.
Not sure what was going on but a zillion stops must have been hit......actually, maybe more like 500 lots or so.