YES, mojo - I think you really have it figured out !! Lead us into knowledge!!
Of course, he is mentally deficient! Anyone who even hints at the idea of the former president illegally using the government agencies to spy on the opposition candidate MUST BE mentally deficient!
Of course he is a RACIST!! Why else would he be making JOBS for black people. Who but a RACIST would make black people feel like they should actually WORK??
Of course he is a sexual predator!!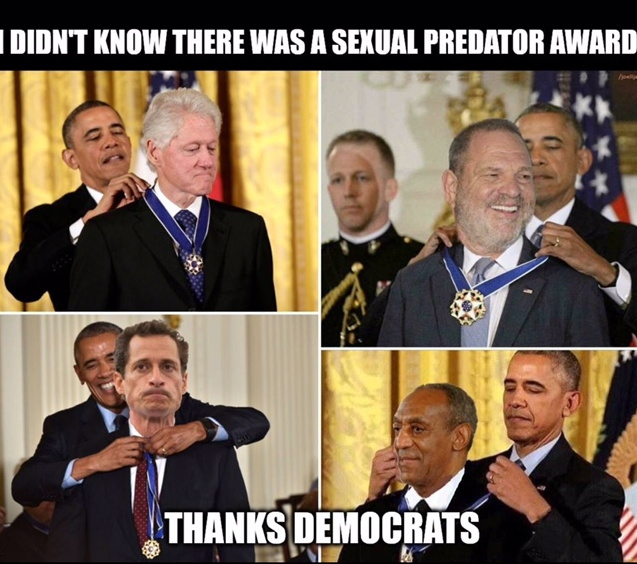 OOPS! Well, better move on . . .
Of course, he has lowered our standing in the world. Oh, wait - no, that's a previous president too, isn't it.
Of course his cabinet appointees are incompetent, inept, and have no qualifications!! What would ever make us think that people like Tillerson and Kelly could ever understand anything about how the world works??
OH, yes, is he EVER ignorant of the workings of government. No need to even go into this one!
And, YES - YES - his assault on the middle class is SO OBVIOUS! HE ACTUALLY IS TRYING TO MAKE JOBS AVAILABLE - AND EXPECTS THEM TO WORK!! That is almost evil, isn't it?? Why, hasn't he made it absolutely CLEAR that he is doing everything he can to get jobs back to this country?? Expecting that people will actually work at jobs and make things - GROUNDS FOR IMPEACHMENT, for sure!!
And, and . . . the coverups about collusion with Russia that HAVE BEEN EXPOSED . . . wow, that could fill a book!!
Oh, wait . . . that was Obama and Hillary, wasn't it. Oh well, nothing to see here - let's move on . . .
And - - the DREAMERS!! The opposition party wanted - what? - 800,000? And Trump is pushing for - what? - almost two million? Oh, yes, Trump is most definitely enjoying watching people "suffer and die" in this country!!
"Many have decided to put party above country; many have simply decided to put their own financial and/or political interests above the nation they claim to love."
Oh, mojo - - I really think you are on to something now!!
This is why so many Republicans hate the president - right??
This is why he was paid for "help" in getting a uranium sale to Russia - right??
This is why he corrupted our premier law enforcement agency to spy on the opposition party - right?? Something that should be called treasonous?
This is why he corrupted that premier law enforcement agency when he destroyed hard drives after recklessly mishandling classified information - right??
Keep on, mojo!! Bring all of this to light!! You are doing a great service to our country!!